As is usual with grandiose plans and visionary goals, they were never planned from the beginning -and they are never so grandiose or visionary, in retrospect. Nevertheless there is no "WTF" bewildered expression in my face, looking at the following :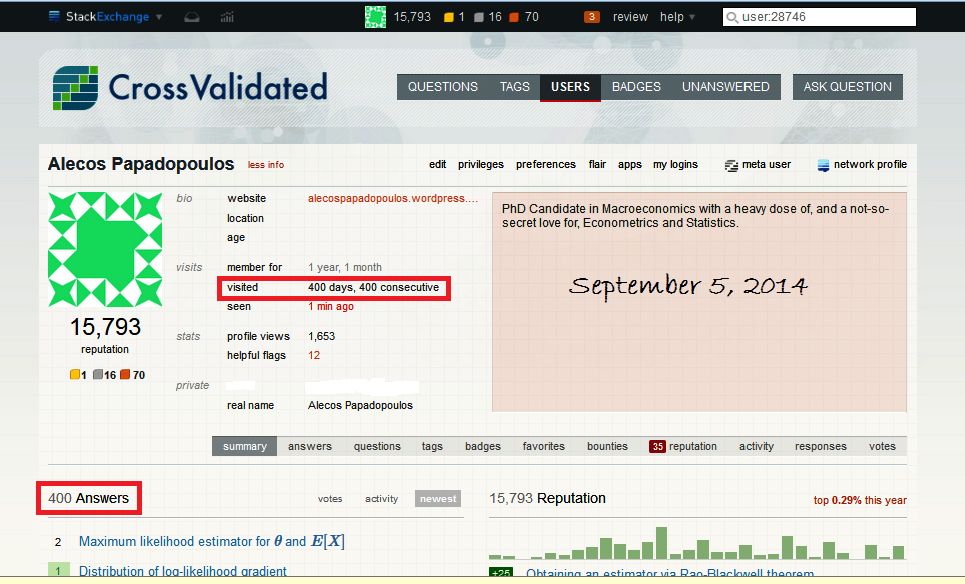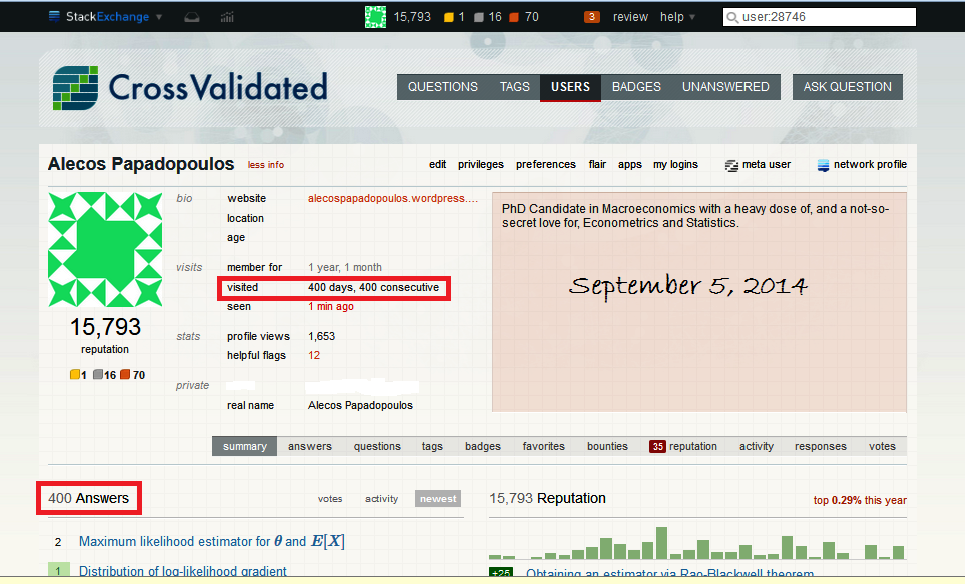 And these were also the first 400 days that I have been participating here. But how did it happen? Don't I have work to do? My PhD? A profession? Personal stuff? Well, I admit I do have all these things. But many of them are mediated by an on-line computer -and CV was no more than one click away. And I found myself always clicking that click, during the day. And a second day. Up to and including the 400th day.
Why?
Two reasons:
First, you learn here. And for me, learning is the only thing that eases my mind. But how did I learn if what I did mostly was answering (1 answer per day, on average), rather than posting questions (just eleven of them)? I believe there is no better answer to this question than the one provided by user Glen_b  in this CV-meta post:
In the course of answering questions over a few days, I often find myself doing algebra I've never quite attempted before, running simulations I've never run before (and writing and debugging code to do them!), suggesting novel or tweaked test statistics and exploring their properties, comparing the properties of several approaches to a problem, coming up with slightly novel way to visualize some data, reading papers to follow the history of some little technique, reading more papers to even figure out what a person is asking about … and so on. That is, a lot of questions here take actual research effort. Sometimes hours of it.
…Come to think of it, there is another important way that one learns here: high-quality interaction. I strongly believe that there is a sense of duty instilled in many of the members of the community, to maintain the high quality of CV. This means that questions, answers, comments, are seriously scrutinized by knowledgeable people, and they won't let it be. Ouch, this sounded polemic… but it is not, not at all, because:
Second, you don't have to fight, in order to learn. You have to try, but not to fight.  Which is not the standard in the World On-Line. Thankfully, fighting is absent here on CV, I imagine due to the way "the tone was set" by the people who created this forum and gave it life in its initial stages, and how it was preserved and persevered throughout the years.
Combine: I found on CV something that eases my mind, and I don't have to fight in order to enjoy it… No wonder I have been clicking that click every day for the last 400 days… and no wonder why I will continue to click, this CV click.
What is your user name again?